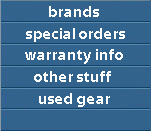 BRANDS

We are authorized dealers for these quality musical instruments:
Austin Guitars and Amps
Seagull Acoustic Guitars
La Patrie Classical Guitars
Oscar Schmidt Guitars and Bluegrass Instruments
Behringer Amps & PA Gear
Bugera Boutique Tube Amps
OSP Electronic Drums
Indiana Guitars
AXL Guitars
Johnson Guitars
New York Pro Guitars
Conn-Selmer Band Instruments
Juzek Stringed Instruments
Casio Digital Pianos, Keyboards & Synthesizers

We also carry a complete line of supplies and accessories:
Strings for all stringed instruments

Guitar & Bass

Ernie Ball Strings
DR Strings
D'Addario Strings
Martin Strings
Fender Strings

Banjo
Mandolin
Ukulele
Classical Guitar
Violin, Viola, Cello, Upright Bass

Red Label
Oxford
Dominant
Pirastro
Palatino

Picks, Straps, Capos, Drumsticks & Heads
Reeds, Mouthpieces, Rosin, Chinrests, Oils
Guitar, Speaker, Microphone & Patch Cables
Effects Pedals, Tuners, Cleaning Supplies
SPECIAL ORDERS

While we are a small store, we have access to over 10,000 musical instrument products, which we can special order for you. Peruse our catalog to check price and availability:
WARRANTY INFO

Our new products come with a manufacturer's warranty of varying lengths and conditions. Products for which we are an Authorized Dealer, warranty claims are handled by us. Products for which we are not an Authorized Dealer, we will refer you to the applicable manufacturer for warranty claims and instructions.
USED GEAR

Often we take used instruments in trade, take them in on consignment, or buy them outright. Check in with us to see what we have in stock, as it changes rather frequently.

If you have a used musical instrument that you would like to sell, or trade, give us a call. We are happy to try and work something out that is fair and reasonable.